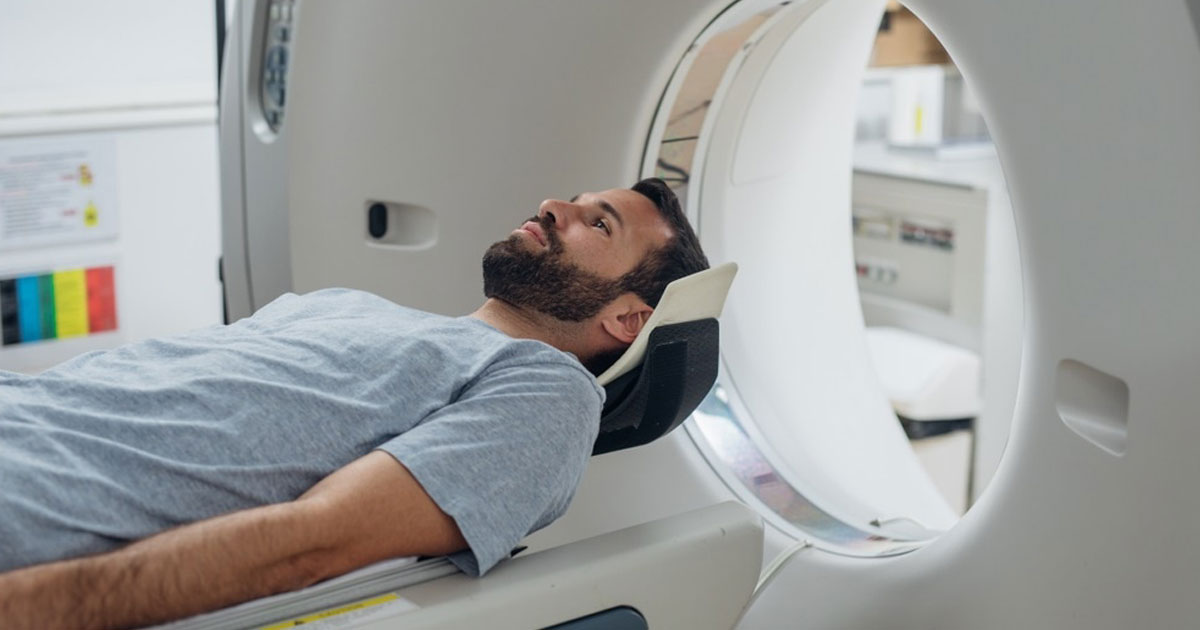 A systematic review conducted in 2015 looked at how common MRI (Magnetic Resonance Imaging) findings, such as disc degeneration or bulging disc, were in people without low back pain. They grouped together the MRI results of 3110 participants, and this is what they found: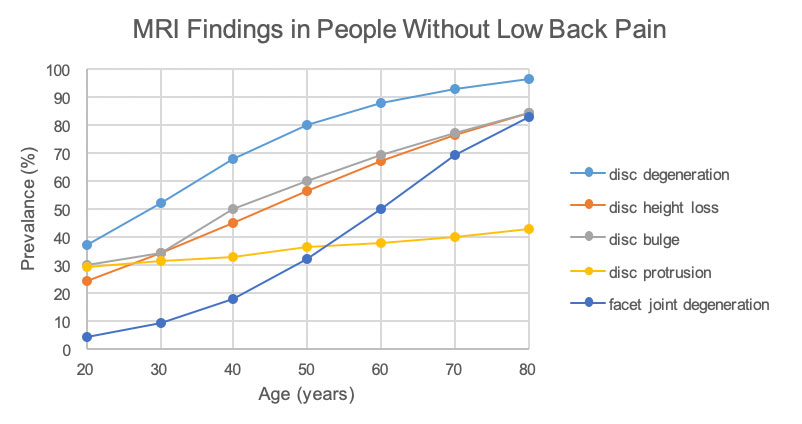 Adapted from: Brinjikji, W., Luetmer, P. H., Comstock, B., Bresnahan, B. W., Chen, L. E., Deyo, R. A., … Jarvik, J. G. (2015). Systematic literature review of imaging features of spinal degeneration in asymptomatic populations. AJNR. American journal of neuroradiology, 36(4), 811–816. doi:10.3174/ajnr.A4173
They found that many of these findings we use to regard of as "abnormal" actually exist in a high proportion of people who have absolutely no lumbar spine pain.
Let's consider the prevalence of "disc degeneration" in people with no low back pain. In people as young 20years old, 37% have signs of disc degeneration. This appears to increase with age, with 80% of 50year olds and 96% of 80year olds having these same changes on MRI.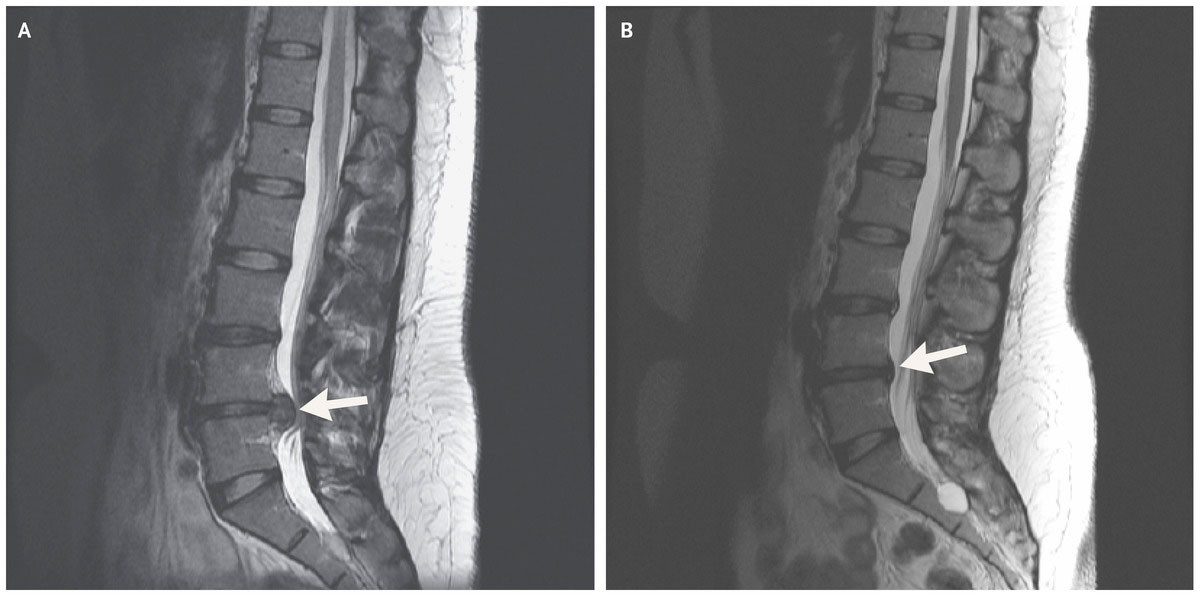 What does this mean?
As highlighted by this review, MRI signs such as: disc degeneration, disc height loss, disc bulges and protrusions, and facet joint degeneration are not indicative of pain. On the contrary, it appears that these findings are not signs of "damage" but rather signs of normal aging. As such, they can almost be likened to wrinkles on the inside. So without symptoms or pain, these MRI findings have very little meaning. Degenerative signs appear to be very common and do not mean that a person will have back pain.
But what about those who do have low back pain?
MRI is a very useful tool to help identify any structural changes to explain a person's pain. However, in light of this review and the others emerging from the research, findings are only significant if they correlate with a person's symptoms. For example, a right disc bulge is unlikely to explain a person's left glute pain.
As such, it is important that MRI reports are reviewed by a Health Professional to determine which findings may be significant, and which are just incidental.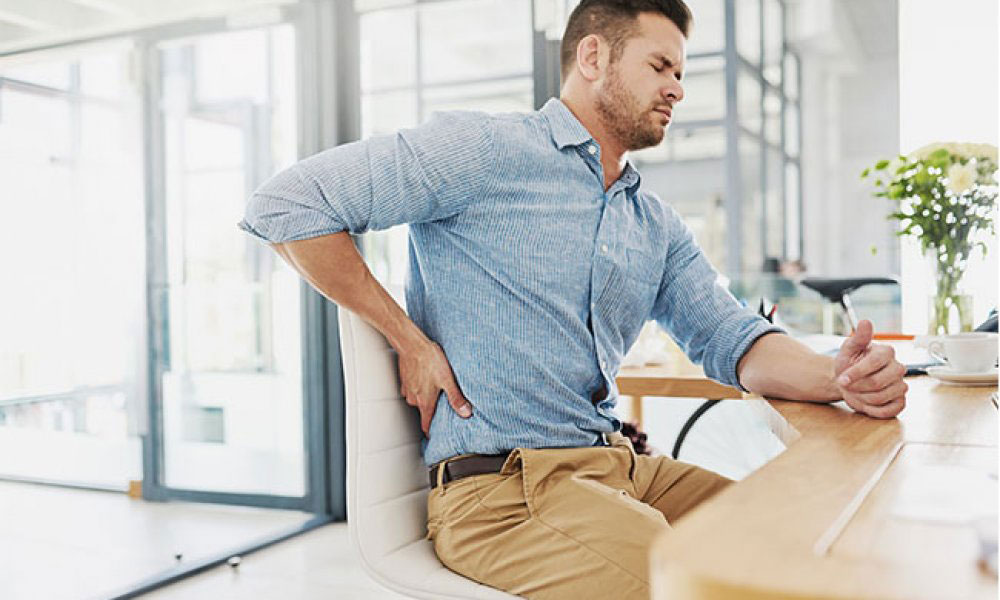 If you have been suffering from Low Back Pain please give Spectrum Healthcare a call on (02) 9889 3344 or book online to have your condition properly assessed and managed.
References
1. Dale, A. M., Harris-Adamson, C., Rempel, D., Gerr, F., Hegmann, K., Silverstein, B., … Evanoff, B. (2013). Prevalence and incidence of carpal tunnel syndrome in US working populations: pooled analysis of six prospective studies. Scandinavian journal of work, environment & health, 39(5), 495–505. doi:10.5271/sjweh.3351
2. Chammas, M., Boretto, J., Burmann, L. M., Ramos, R. M., Dos Santos Neto, F. C., & Silva, J. B. (2014). Carpal tunnel syndrome - Part I (anatomy, physiology, etiology and diagnosis). Revista brasileira de ortopedia, 49(5), 429–436. doi:10.1016/j.rboe.2014.08.001
3. Australian Government Department of Health. (2019, June 3). Carpal tunnel syndrome. Retrieved from https://www.health.gov.au/resources/pregnancy-care-guidelines/part-i-common-conditions-during-pregnancy/carpal-tunnel-syndrome.


Back